Alexey Kara-Murza and Olga Zhukova at University of Venice
On December 7, 2018, in the famous Mario Baratto Hall of the Ca 'Foscari Palace, the main building of the University of Venice, there was held an Italian-Russian meeting of cultural and scientific exchanges
Presentation of the new book by the chief research fellow of International Laboratory for the Study of Russian and European Intellectual Dialogue Alexey Kara-Murza "Famous Russians about Venice"

was the main event of the meeting.

Talking about the book, Alexey Kara-Murza focused the attention of listeners' on a unique fact, which he found out during his study. The author devoted his speech to the Russian history of the Villa Maravege, with which the life paths of several famous representatives of the political and artistic culture of Russia

were connected (

from the diplomatic envoy of the Russian emperor Semyon Vorontsov to the exiled Joseph Brodsky).

In the framework of a special Italian-Russian meeting organized by Centro Studi Sulle Arti Della Russia (Venezia) and Università Ca 'Foscari Venezia with the participation of the Institute of Philosophy of the Russian Academy of Sciences and the National Research University "Higher School of Economics", the presentation "Venice Aesthetic Discovery. Work of the emigrant

artist

Konstantin Gorbatov" was made by the deputy head of the

International Laboratory for the Study of Russian and European Intellectual Dialogue

Professor Olga Zhukova. She presented the exclusive results of the philosophical and cultural studies of the work of Konstantin Gorbatov. As a reviewer of a series of studies by Alexey Kara-Murza about famous Russians in Italian cities, Olga Zhukova also shared her impressions of the new book by the well-known Russian author.

In Venice Alexey Kara-Murza and Olga Zhukova had a remarkable meeting with the

a literary critic and translator Klara Strada-Yanovich, the

widow of the outstanding Italian Slavist Vittorio Strada. She told about Vittorio Strada's works and her own work on the book "Fragments of the Past. My Far East".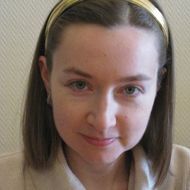 Olga Zhukova
Deputy Head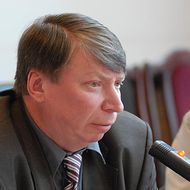 Alexey Kara-Murza
Chief Research Fellow